Underfloor Heating Frequently Asked Questions
General Underfloor Heating Questions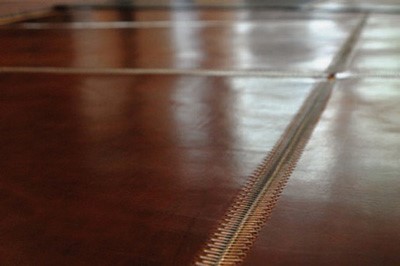 Do I need a
special boiler?
No, you can use underfloor heating with your existing boiler – gas, oil or LPG; it can also be run using heat pumps.
What are the best systems
- water or electric?
Generally warm water underfloor heating systems (wet systems) are slightly more expensive than electric underfloor heating systems to install, but cheaper to run.
How does wet system
underfloor heating work?
Underfloor heating relies on the principle that heat rises, and as warm water is pumped through pipes beneath the floor, the warmth radiates up into the room, through the suspended timber floor, or concrete floor, creating a perfectly controllable room.
Is underfloor heating cheaper to
run and more efficient than radiators?
Yes, depending on your boiler, it can be up to 40% cheaper to run, and is much more controllable, and therefore efficient, than traditional radiators.
What is the warm up time
and how hot will it get?
This depends on the thermal conductivity of your floor coverings – stone and tiles, for example, are excellent conductors, and can carry heat up to, and beyond, 29c, whilst carpet is not as efficient, at 27c. However, with the underfloor heating working efficiently, the floor will always feel comfortable to walk, sit or lie on. If concerned, check with your flooring manufacturer. Underfloor heating takes very little time to increase the temperature of a room.
Can it be used with different floor types?
Can I install it with carpet, or tiles?
You can use any type of flooring types - from carpet, or tiles through to stone flags, or wood; even the new fashion for leather floors is suitable for an underfloor heating system. However, always check with the manufacturer, if unsure.
Can underfloor heating be installed
in conservatories and bathrooms?
Yes, it can; underfloor heating is a popular addition to many bathrooms (often with the addition of a heated towel rail), conservatories, and even wet rooms.
Can I use underfloor
heating on upper floors?
Absolutely!
How to use underfloor heating?
Is it cheaper to leave the heating on?
Underfloor heating runs at a lower temperature than radiators do, and the general advice says to leave it on constantly, controlling the temperature with the thermostat. This is a very efficient method as it takes energy to heat up the screed that surrounds the pipes, and leaving it on minimises that energy required, and keeps costs down.
Retro Fitting Underfloor Heating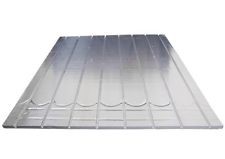 Will underfloor heating work with my
current central heating construction?
Yes, you can have underfloor heating installed with your current system. You might choose to have underfloor heating downstairs, and conventional upstairs, or one room underfloor, and the rest not – the choice is yours.
Is my property suitable
for underfloor heating?
Almost every property can have underfloor heating installed; newer houses have strict regulations on insulation levels, and are, therefore, eminently suitable, whilst older properties can make use of effective retrofitting solutions that can be fitted under your existing floor structure
Can I retrofit underfloor
heating in my house?
A retrofit underfloor heating system means that it can be installed on top of your existing subfloor, whilst keeping any rise in floor level to a minimum. These are boards with grooving, or pegs, cut into them, where the pipes can be fitted, without sitting proud.
Is the construction of my existing
subfloor suitable for underfloor heating?
Most subfloors are suitable for laying underfloor heating, and there are a multitude of designs available for a suitable match. A damp-proof membrane should be laid initially, followed by a layer of insulation, then the pipe work, and finally your actual floor. This creates an efficient system, where the heat can rise into the room.
Will my floor height
be affected?
Some systems will only raise the existing floor height by 2.5cm, including the necessary underfloor heating insulation; however, it is probably best to estimate a 5cm raise.
Installing Underfloor Heating
What size of underfloor
heating kit do I need?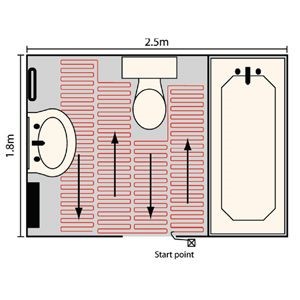 The size of the kit is dependent on the size of the area and amount of rooms needing to be heated.
How to calculate the underfloor
heating kit size I need?
The square area of the room needs to be calculated, excluding any fixed furniture, such as baths, or kitchen units – the pipe system is not placed under these items. You should aim to cover between 80-95% of the free floor space for an efficient system; this calculation will avoid creating any cold spots.
What are the underfloor
heating installation costs?
The cost of installing underfloor heating varies, depending on the size and ease of the installation. Most projects will only take a day or two to complete, but a large project, or a commercial one, can take longer. Each project will be priced individually as a result.
Can I install
it myself?
It can be installed by an experienced DIYer; however, the actual work will not be covered by a guarantee, and your insurance provider may have issues in the event of a claim.
How do I design
a layout?
Underfloor heating pipes are very flexible in their design – odd shaped rooms, or hallways can easily be accommodated by curving the pipes. There are plenty of builder's templates available.
Underfloor Heating Maintenance
How long will an underfloor
heating system last?
The pipes used for underfloor heating must have a projected lifespan of 50 years, in accordance with industry standard DIN 4726; however over 100 years is entirely possible.
What happens if there is
a fault or a leak?
As the pipe system has no joints, and the pipes have a lifespan of over 50 years, a leak is extremely unlikely; however, if a leak does develop, it can easily be repaired with minimal disruption. Our work is guaranteed, and in the unlikely event of a fault, we will rectify it promptly and effectively.
Will my underfloor heating require
maintenance and do you offer on-going support?
Underfloor heating systems require very little maintenance, and yes, we are always available for on-going support and advice.